¡Happy scary night!
¿Are you one of those who could not pass the opportunity to get back to the past, act like an unconscious child doped with sugar and scare your neighbours with stunning costumes? Then for sure that you don't want to miss this very special article for Halloween.
We have dug internet for you to find the most amazing costumes for pets! Maybe you do not agree with dressing pets like people… but you must accept that the next pictures are freakingly amazing!
In our research we observed that is far easier to dress a dog than a cat, but do not give up if you just have adopted a gang of kittens!
Select a dress for your pet is not much different to select a dress for you. First of all you should now that before selecting your costume, you have to decide among some typical categories.
The most common category: monsters and magic creatures!
Vampire by istolethetv
Wizard by charley1965
Devil by crystalfaye
There are also the classic roles: the cowboy, the pirate, the rugby player,…
Cowboy by daveynin
Pirate by Randy Pertiet
Farmer by dapuglet
Player by beaub
Oh, and do not forget the troglodite… and his friend the triceratops:
Another superclassic costume is the comic heroe:
Superdog by kthypryn
Bat dog by istolethetv
Eh? Is not Waldo your superhero on family dinners?
Who has never dressed as an animal? They can do it too!
Bug by ecopup
Chicken dog by jumpyjodes
Pug… in a pug costume by dapuglet
Yeah, there are always those who do not like Halloween and are compelled to go… as themselves…
But the most common group of costumes are those ones related with movies… and here you don't need a great imagination, thank bloody merchandising!
Dorothy and the Scarecrow from The wizard of Oz by maccun934
Oh, we love this amazing couple!!!! They dress their dogs every year… in they do very funny pictures! We featured more of them in this post!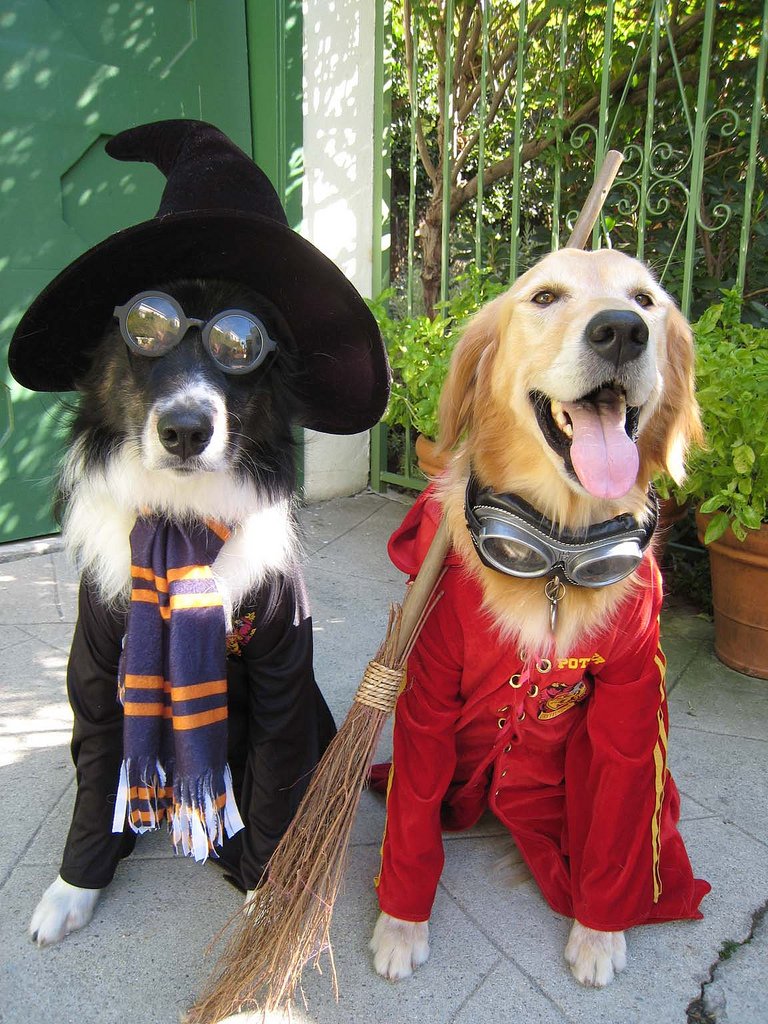 Harry Potter by petsadviser-pix
Buzz Lightcat by plasticrevolver
Darth Vader and Princess Leia by maccun934
Picture by danja
Oh, my… he is not a dog in a costume… he is The Emperor!!
And finally, for those of you that have not been touched by this post, and keep saying that pets should not be dressed, and that dogs are dogs… sorry for the pun 😉
And that's all!
Either you have a pet to dress or not, Happy Halloween!