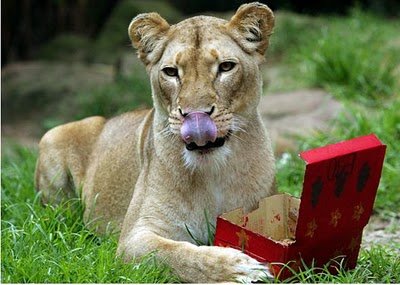 Does the crush of relatives make your house feel  like a zoo? Is the gift rush making you feel like a bear? Are you sick of cookie-bingeing children monkeying-around? Instead of embracin your inner Scrooge, lighten up with our gallery of animals in the Christmas sprint. They're adorable, fluffy and might even remind you of those uncivilized inlaws of yours.
Santa Claus his best fur-lined suit to feed a beluka at Hakkeijima Sea Paradise, an aquarium in Yokohama, Japan.
This meerkat at the London Zoo is eager to get to its mealworm treat, but has discovered that not having opposable thumbs makes that a challenge.
This snow-leopard cub, which lives in the Los Angeles Zoo and Botanical Gardens, might be adjusted to the warm Southern California weather, but it apparently hasn't figured out that the cardboard gingerbread men aren't as tasty as the real ones.
After the run of unwrapping presents comes the drudgery of cleaning up the wrapping paper as this glum-looking chimp at lion contry Safari in West Palm Beach.
This Kodiak bear apparently got exactly what it wanted for Christmas from the staff at Taronga Zoo.
One might imagine that an elephant would be a great asset in decking high and hard to reach places with Christmas decorations. The trick is to keep the pachyderms, like these two at Germany's Rostock Zoo, from chowing down on a tasty pine-needle goodie.
Zoo keepers a Taronga Zoo apparently forgot to tell these young lions that it's customary to remove the wrapping paper before devouring a Christmas treat. The kids are so cute on Christmas morning.
It's important to make sure that the older folks feel included in holiday festivities, too. This zookeeper at Ueno Zoo is doing his part by giving this 76-year old tortoise, a Galapagos geezer, a Christmas snack.
Coati bear Diego, a resident of the Hanover Zoo in Germany.
These two Cape penguins at Hakkeijima Sea Paradise aquarium, though adorable in their holiday attire, demonstrate why Santa decided to locate his workshop at the North Pole rather than the South fewer fowl underfoot.